HOME
10th INTERNATIONAL SYMPOSIUM ON AVIAN VIRAL RESPIRATORY DISEASES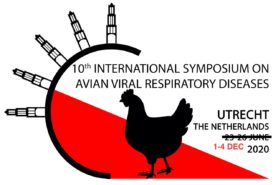 Due to the current global COVID-19 situation, we decided to postpone the Xth International Symposium on Avian Viral Respiratory Diseases.
 AVRD2020 will now be held on December 1-4, 2020, the venue stays the same (ISVW, Leusden, The Netherlands). Our sponsors support our decision, and most of our keynote speakers have already confirmed their presence. We trust your commitment and hope you will be able to attend the AVRD2020 in December as well.
In 2016, we continued the tradition of organizing a unique symposium for scientists and industry involved in research on relevant poultry such as infectious bronchitis virus, avian metapneumovirus, infectious bursal disease virus and chicken anemia virus. In 2018, Prof. Mark Jackwood and his team organized the International Avian Respiratory Diseases Conference in Athens, GA, USA targeting a similar scope and audience.
We are very happy to announce that Royal GD (Deventer, The Netherlands) and the Faculty of Veterinary Medicine of Utrecht University (The Netherlands) will jointly organize the 10th International Symposium on Avian Viral Respiratory Diseases in December 2020. As in 2016, the meeting will have a limited number of participants (maximum 150 people). It will take place in the same venue as in 2016 near the city of Utrecht, The Netherlands. It will start Tuesday first of December and end at Friday third early afternoon.
The main purpose of this symposium is to bring together all those with special knowledge on and interest in all avian viral respiratory diseases except avian influenza. This includes infectious bronchitis virus, avian metapneumovirus, newcastle disease virus and infectious laryngotracheitis virus.
We would like to thank our sponsors for supporting this symposium that enables us to keep the costs for the participants relatively low. The fees include hotel, participation, food, drinks and social events.
The organizing committee would like to invite the participants to submit an abstract for an oral or poster presentation in the field of Avian Viral Respiratory Diseases. The scientific committee will evaluate and decide which abstracts can be presented orally.
If you have any questions about the symposium, please contact the Symposium Secretariat.
On behalf of the organizing committee, we look forward to welcoming you to the AVRD 2020!
Dr Remco Dijkmana
Prof. Dr. Andrea Gröneb
Dr Robert Jan Molenaara
Dr. Hélène Verheijeb
Dr. Erik Weertsb
Prof. Dr. Sjaak de Witab
 a Royal GD, Deventer, the Netherlands
b Faculty of Veterinary Medicine Utrecht University, the Netherlands