HOME
10th INTERNATIONAL SYMPOSIUM ON AVIAN VIRAL RESPIRATORY DISEASES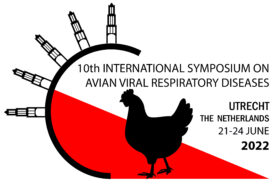 Due to the current global COVID-19 situation, we decided to postpone the Xth International Symposium on Avian Viral Respiratory Diseases.
Due to the ongoing global uncertainty regarding COVID-19 we decided that organizing the AVRD2020 meeting in 2020 is, unfortunately, not a viable option. We decided to postpone the AVRD symposium to 2022, as in 2021 the World Poultry Conference will be organized. The next International Avian Respiratory Disease Conference, organized by Mark Jackwood and his team in Athens, Georgia, will be postponed to 2024.
The new date of, now AVRD2022, is June 21-24, 2022, and it will take place at the same venue in Leusden, The Netherlands.
Take care of yourselves and stay healthy.
Dr Remco Dijkmana
Prof. Dr. Andrea Gröneb
Dr Robert Jan Molenaara
Dr. Erik Weertsb
Prof. Dr. Sjaak de Witab
Andreas Papanikolaou MSc

 a Royal GD, Deventer, the Netherlands
b Faculty of Veterinary Medicine Utrecht University, the Netherlands